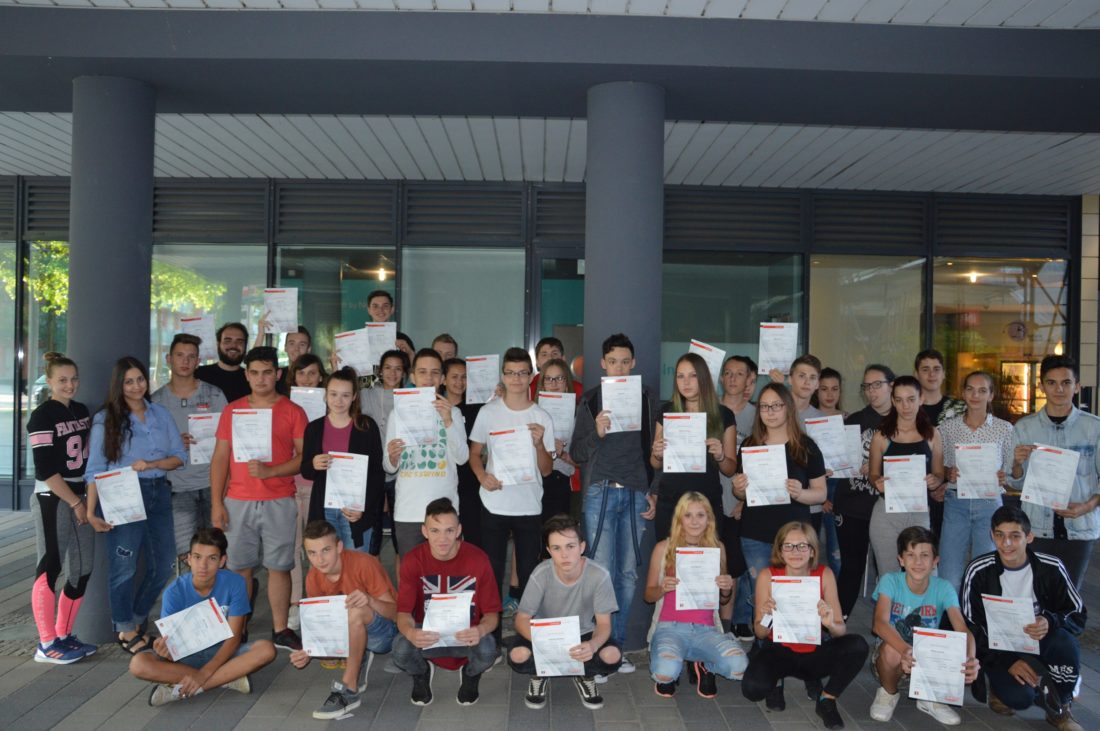 Language camp – Munich
Farewell – Sunday (8th July) The day of our departure has arrived. This morning after having eaten our plentiful breakfast we rushed into our rooms checking if we have packed all of our belongings into the suitcases. Our transfer arrived on time so at 12 am we have already arrived to the airport. This day was not only special because of our returning home but as one of our mate had birthday. We happily sang him a song and cheered for him. It was truly innate – nevertheless the moment as we could hug and cuddle our parents at home after being a week in Munich.
Hereby we would like to say thank you to our sponsor the LR Global ids Fund and the Foundation for supporting this camp. Hope to see you next year too!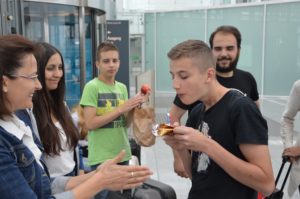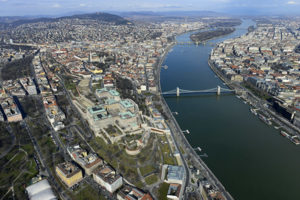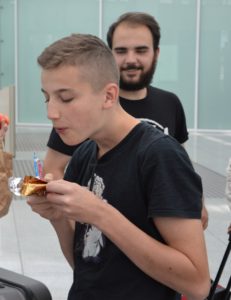 Adventurous palace-tour – Saturday (7th July) After a good night's sleep and a lovely breakfast we started our weekend journey to Nymphenburg Palace. We could have a look inside the baroque building and spend some relaxing time in the park. The beauty of the garden was magical, the fresh air made us all hungry. Following lunch we discovered a new part of Munich, we visited the longest pedestrian street of the city. On our last evening we were proud to be handed over the certificates of the finished courses. After dinner we went back sadly to our rooms, because this is our last night in Munich. We are already excited about the flight back home.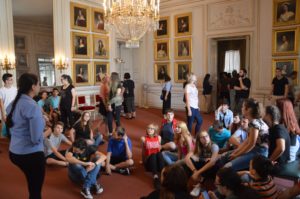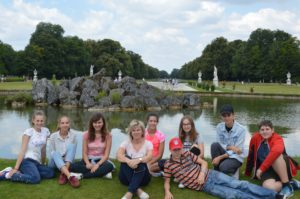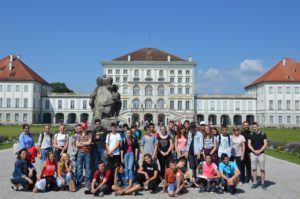 Rain-day – Friday (6th July) Today started with rain. The mentors figured we should do team building games at the afternoon, which were great fun. We could enjoy a variety of playful exercises. It was especially great that we didn't have to walk a lot but do rather thought-provoking German tasks. Adorján Petrovics
In this day what I liked the most was that we could work together as a team thus getting to know my groupmates even better. The lunch was great. Congrats to the mentors and junior-mentors for their creative, punctual and resourceful work. Holecska Bálint
Today was great although the weather was not, it was rainy. The programs were awesome, we were divided into groups of seven. We had to solve five different tasks in German at five different locations. I believe that we made a super team. I had the chance to learn a bit of my comrades. Majoros Ivett, Pécs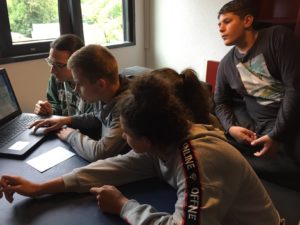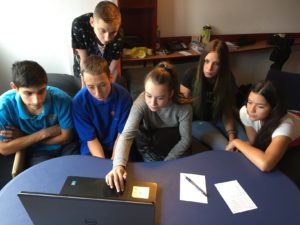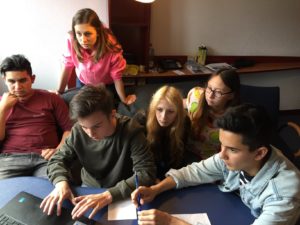 Today's overcast and rain did not ruin our mood, after lunch we did a quiz. At five different rooms where we solved questionnaires. We are excited for the result because the winner team has a reward. Sik Maja, Mohács
This is our fifth day in Munich. Today was just as good as the previous ones, it's a pity that it was raining. We divided the group into five teams and did a marwellous quizes. Rácz-Vekerdi Janka
I really liked that I could spend more time with my friends wile solving playful tasks. Suhajda Márk
I really enjoyed the delicious and filling lunch. Dani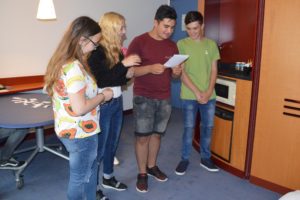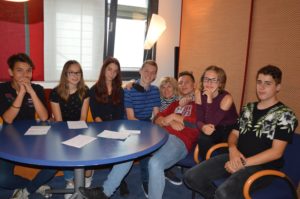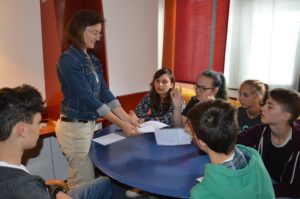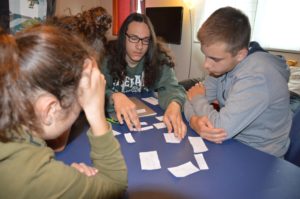 The stations and puzzles were creative, we spent the day in a great mood. Ritzl Borbála, Mohács
What I found the best was that I could spend more time with my groupmates, and the quiz was interesting as well. Adél
The quiz was great and the station leaders were prepared. Discovering the rooms and solving the puzzles lead to an awesome experience. Környei Kata, Mohács
Today was unique for me this week. The afternoon was the best part of the day. We solved exciting and great puzzles. It was a real pleasure to work in a team. We completed lyrics and stood on a map so that our feet can't touch the ground. We solved handouts, told a story with our own words. the reward was candy which we divided among ourselves equally. The rain did not affect my mood and I can say it for sure, this experience was amazing. Balázs Bence
It was interesting to learn how football shoes are made. Teri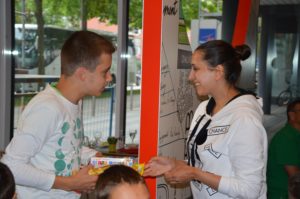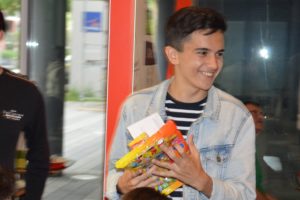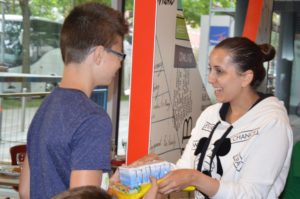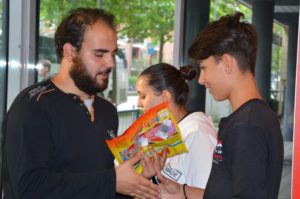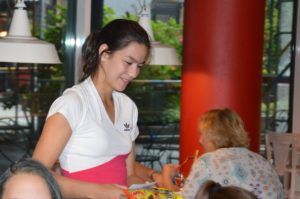 Celebration – Thursday (5th July) Before noon we got to know new teachers and topics. We improved our listening skills with music songs, the time just flew away while learning playfully. After the fantastic Bavarian lunch, we went to the already familiar ice-cream shop to enjoy our ice-cold dessert. Before starting the big bowling tournament, we surprised three birthday-kids with a song and little gifts. After blowing the candles, we divided into groups and the competition begun. The two hours, we spent there, were full of fun. We greeted the champions and travelled back to our accommodation with a big smile on our faces, where we had a great dinner. At the end of the day we relaxed and prepared ourselves for the last school day.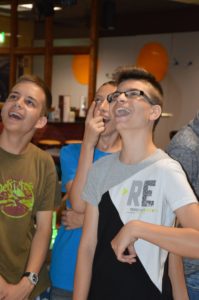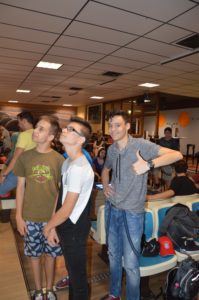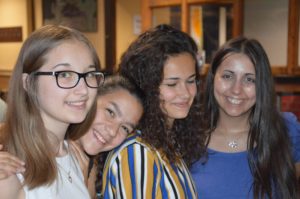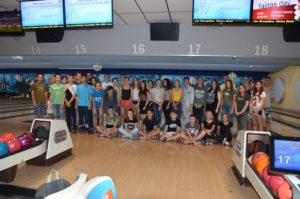 Obsessed by speed – Wedesday (4th July) Wednesday started like a charm, we were fit and fresh. We sat down to our already familiar places at the school. Today, we learned a bit of German grammar and improved our vocabulary, for example in the topic Lifestyle. Our sponsors of the LR Global ids Fund (Tanja Stephani, Adél Birnstingl), also arrived this morning, they could get to know us and visit the German lessons. After having lunch, we ate some ice-cream wandering through the streets of Munich to the BMW Welt. After a short historical recap we were able to take a glance at the newest models, in some of which we had a chance to sit in. After a delightful dinner our sporty kids played football.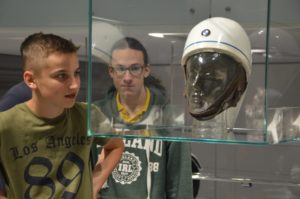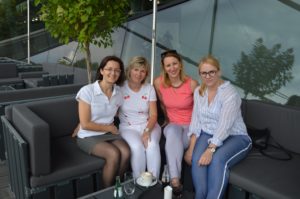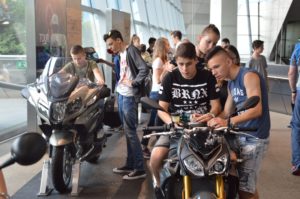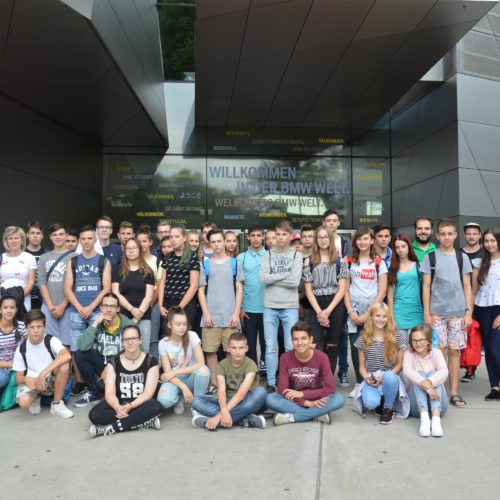 Football fever – Tuesday (3rd July) Familiar people were already waiting for our groups at the language school, to which we arrived on Tuesday morning. There were groups, whose topic was the uniqueness of the German culture, the others discussed the difficulties of our everyday-lives. After our Italian lunch we rediscovered the surroundings of the Marienplatz, then came the most anticipated part of the day: we went to the Allianz Arena. Boys and girls were also fascinated by the monumentality, but even more by the echo of our roaring. After visiting each and every segment of the stadium – even the locker rooms – we could have a look into the football-history in the Bayern München museum. Later on, we went back to the hotel and enjoyed a splendid dinner. We are very excited to meet our supporters of L&R Beauty GmbH., and cannot wait to discover a new part of Munich.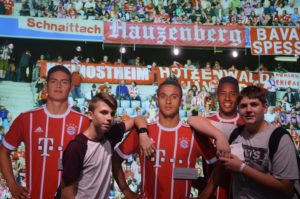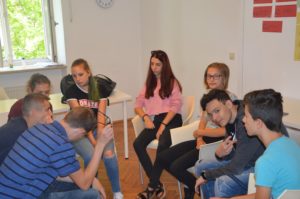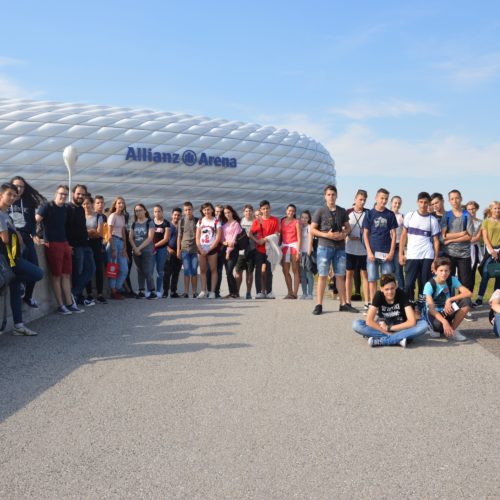 Adventurous Monday (2nd July) -Finally we could discover Munich. Early in the morning we started at the SprachCaffe language school. After we were separated into international groups, we began to deepen our German knowledge. Everyone on their own level got to know something new about the German culture and language. The lessons were intriguing and interactive. After having a mouth-watering lunch in a typical Bavarian restaurant, we could enjoy our ideal accommodation.  Later on we made a little tour to the old town, where even climbed up to the tower of the church Alter Peter, from there we had a breath-taking view of the city. We finished our adventurous day with a gourmet dinner. Now we are a little bit tired, but we are looking forward to the next day. Bogdán Eszter, Koza Attila, Szabó Gábor junior-mentor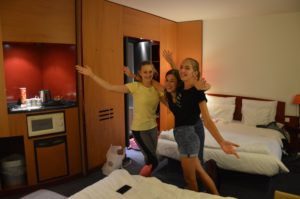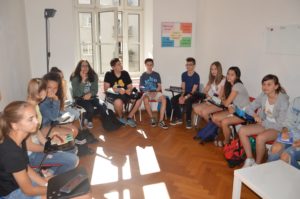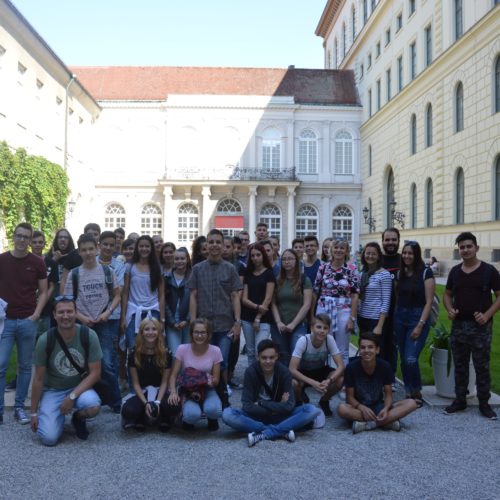 Sunday (1st July) – The winners from the annual language competition started their journey from Mohács, Nagybajom, Pécs, Szeged and Hargita county in order to enjoy a week abroad. The journey itself made the whole group enthusiastic, as most of them were flying for the very first time. This is the first time for us being in Munich. New location, new school, and new accommodation – we all (40 people) are ready to experience the hospitality and warm welcome of this city.