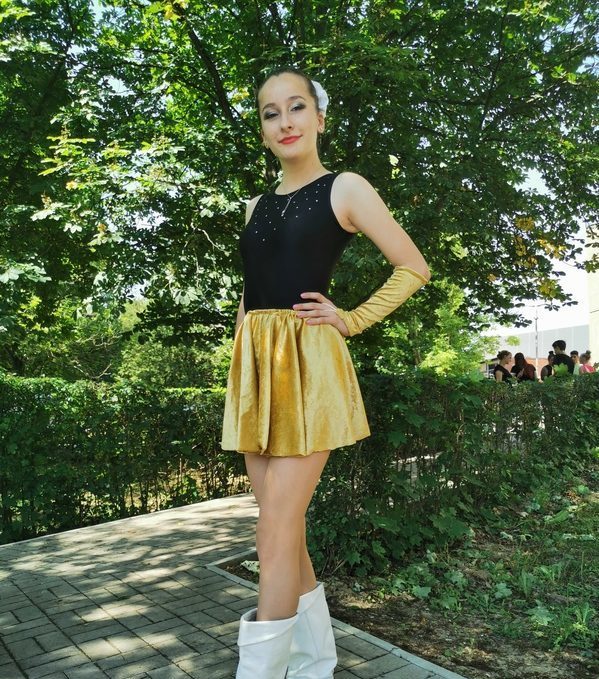 My mazurett career
I'm Lili Demerácz, member of the Pécs 2 group. I've been dancing at the Pécs-Vasasasi Csillag Mazsorett Egyesület for 8 years. Every year my group and I win podium places in many national and international competitions. We are the proudest for our gold medal at the European Championships 2022, first place. We qualified for the championships through the national round of the MLTSZ Hungarian Visual Dance Sports Association.
I met my coach through my father. When I found out about the opportunity, I was very happy, because I had already been interested in the sport and was fascinated by the world of masorettas at some events and programmes.
I love the fact that music and movement play a part in it at the same time. It differs from other dance styles in that the choreography incorporates different tricks and elements with the stick/cane so it's much more special. Also, it's important to work together and harmonise, as we mostly dance as a team.
There are several categories of competitions; talent, age, number of dancers, and type of equipment used. I compete in both category B (intermediate) and category A (professional). I also compete in junior, team (13-4 people), trio, duo and solo by age. In addition to dancing on the mazerette stick, we also dance with pom-poms, flags, ribbons.
For successful results, it is not enough to have a lot of practice, six months of preparation with a choreography, but mental preparation is equally important. You have to decide in your head that everything is going to be perfect, so that you don't get nervous just before you go on stage.
My favourite quote is: "Practice like you've never won before. Perform like you've never lost before!"
I am most proud of these results (2019-2022):
– European Championships.
– International: Silver Snowdrop Arad 2022 J. show dance Silver, J. trad. J.D. Gold. Subotica Grand Prix J. solo, trio Gold, Junior team baton Gold. child, adult team baton Silver
– Also my regional, national results: 19 Gold, 15 Silver, 1 Bronze
All this could not have been achieved without the support of the Csányi Foundation. Thank you!
Lili Demerácz, Pécs Group 2.