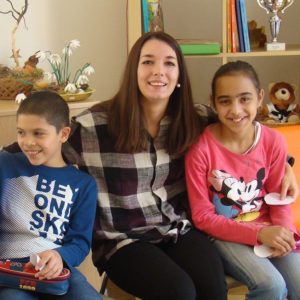 My name is Elisa Zorzetto, I am 22 years old and I come from Italy. I live in a little town nearby Venice and at the moment I am attending the third year at Ca' Foscari University of Venice, where I am studying Languages (especially English and Russian), Literatures and Cultures.
I have always been interested in this field, because since I was younger I have been attracted by the huge variety of ethnicity in the world. My parents have always been fulfilled my desire to visit different countries and spend some time abroad, most of the time as a student, attending language courses.
This wish to deeply immerse myself in other cultures had more and more increased, so I decided to take this new challenge participating in this internship at Csányi Foundation.
Why did I choose this country? First of all because I am in love with countries of Eastern Europe – as I said before, I am studying Russian at the moment, so I have already been in touch with all populations speaking Slavic languages. But Hungary is something else, it has different culture, habits, language features and I am very excited to investigate and discover all the secrets of this wonderful state. On the other hand, I really appreciate the program led by Csányi Foundation and their aim – to help children with a disadvantaged social background to fulfil their skills and qualities.
I think that this experience is going to be an amazing opportunity for me: I love children and the authenticity that comes from their eyes and I would like to have a positive impact in their lives, support them, change their view of the world and make them realize how international relationships are important nowadays. I hope that they will profit from my knowledge of English and, more important, I would like to transmit them this desire to experience about the world together with the values of uniqueness, social equality and teamwork. I want the children to have an impression of where I come from, so I will bring with me typical souvenirs, food and pictures about Venice and Italy, in order to create an interactive atmosphere and a friendly connection with them. I hope that this will be an exchange of information, because I expect to learn a lot form the children about their everyday life, their habits and traditions.
Describing myself is pretty hard, but I can say that I am a really open-minded person, prepared to accept new ideas, well-balanced, cheerful (most of the time I am in a good mood), responsible, practical and sociable. I think that the things that made me the person who I am are my travelling experience I had so far, my education and my relations with my family and friends. I think that this project would give me the opportunity to work on my weaknesses, step by step. I would get the chance to act a small but relevant part in the society. Taking part in this internship would mean a lot to grown up as a better person while trying to leave a sign in children's lives.
I can't wait to be part of this unique project, giving all my best!