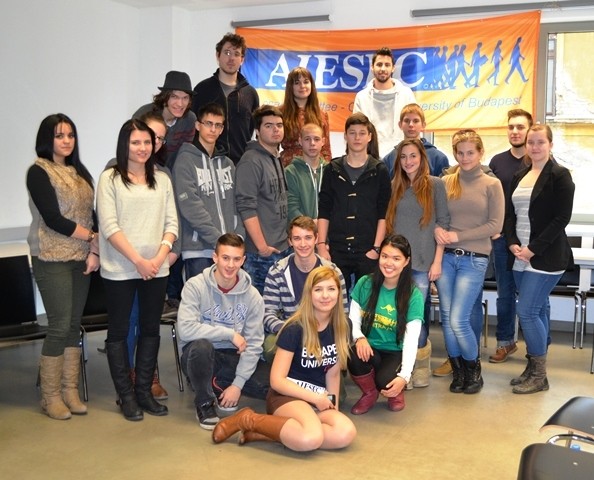 Meeting the Hungarian organisation of AIESEC ( 25th January 2014.)
Among the winners of the "It's better to give than to get" project were Kovács Liliána, Gaál Dorottya and Kovács Dániel from the P2 group.
It was them who we can thank for the chance of traveling to Budapest. We visited 3 famous universities as well as the AIESEC.
The following comments were made after the day:
– The university students showed us the work of AIESEC their own university experiences and everyday lives at the campus. ( Petrovics Vivien , P2)
– We were treated as first year students and recieved a lot of tips and advice ranging from everyday life to the entrance exams. Seeing their enthusiasm we all got interested in applying. ( Járay Bianka, P2)
– I had a great time, we were totally accepted as we were students too. I am glat I had a chance to get a glimpse into the university life.
I would be interested in going to other universities on such programmes. ( Gálosi Patrik, P2 )
– It was a great experience visiting them. We could attend a well organised lecture and we could ask all our questions from the students. ( Kovács Liliána, P2)
– I had a great time. I learned a lot from the students about the universities of Budapest. If I could visit them again I would. ( Jávorka Patrik, P2)
– The visit was just perfect. I've been longing for these universities for a long time. It was a fantastic experience to be part of the university for a day. Wonderful buildings, well equipped rooms and friendly students everywhere. I hope I will be one of them in the future. ( Bogdán Dóra, P2)
– I was happy when I heard that I would get the chance to visit a few famous universities. I was not disappointed. I got to know the Corvinus University, the ELTE and the BME. I learned a lot about higher education. ( Szőllősi Andrea, P2)
– I liked that the volunteers were friendly and gave us a lot of good advice. We visited three universities in which students worked with AIESE.  ( Orbán Máté, P2)
– I really liked this day as we travelled for our future to the capital. Seeing the faous universities and the life of the students I have a new motivation. ( Hermann István, P2)
– As a mentor I am filled with joy that my group found the visit to Budapest useful. The experience, enthusiasm and the well organised programmes of the university students was a great experience for my "children" and I am sure it will be useful for them when the time of choosing universities will come. ( Nagy Edina, P2)